In images, in picturesThe surge in Covid-19 infections has put a damper on festive projects, but traditional New Year's Masses have been held around the world.
In Bethlehem's Manger Square, the few Santa hats and the sound of drums remind us that today is a day of celebration. But the crowd is sparse because, once again this year, the coronavirus comes to spoil the festivities of December 24.
According to Christian tradition, the birthplace of Jesus, Bethlehem usually sees thousands of tourists and foreign pilgrims flock to Christmas. But this city in the occupied West Bank has once again had to be content with celebrations in a select committee, Israel – which controls access to this Palestinian territory – having closed the borders to limit the spread of the Omicron variant.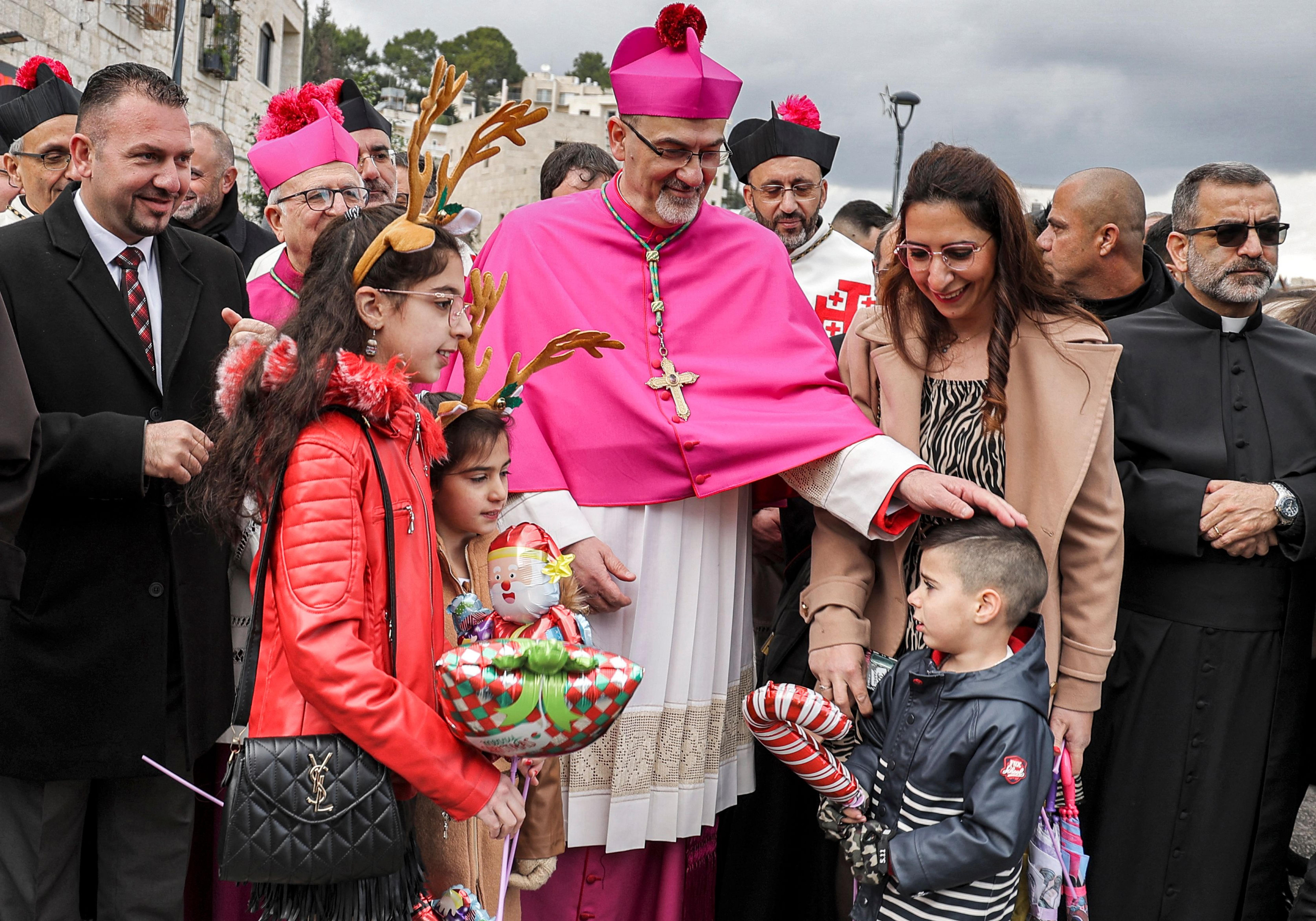 « It's so different from other years, when it was crowded », underlines Kristel Elayyan, coming from Jerusalem. « "Oh my God, a stranger!", we say to ourselves from now on when we meet one « , smiles this Dutch woman married to a Palestinian. Palestinian Minister of Tourism Rula Maayah, however, was delighted that this year, « Thanks to vaccines », the city is celebrating again after a confined 2020 edition.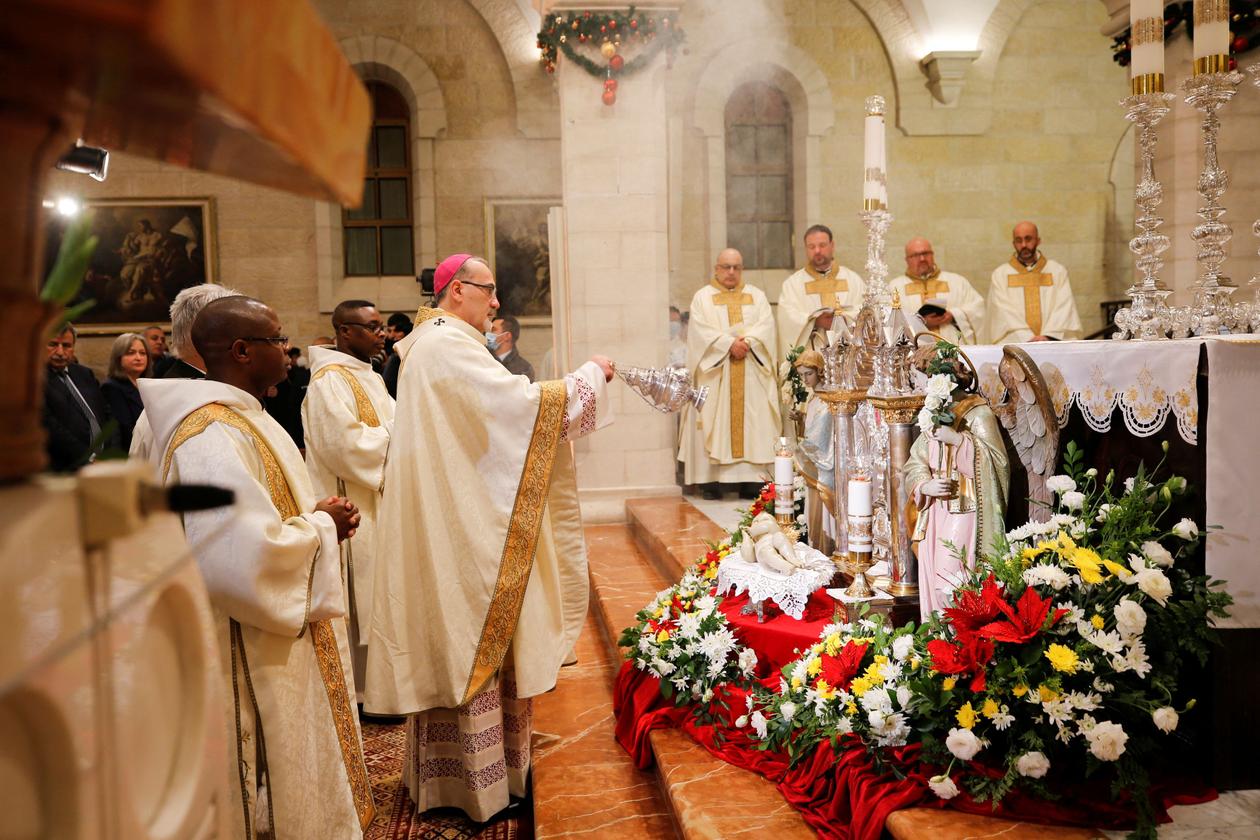 In Rome, Pope Francis presided over Christmas Mass in Saint Peter's Basilica on Friday December 24 in the evening in front of some 2,000 masked people, while billions of people around the world celebrated a Christmas darkened by the Covid- 19 and the explosion of cases linked to the Omicron variant. The 85-year-old Argentine pontiff invited the faithful to « Rediscover the little things in life » in a new plea for humility.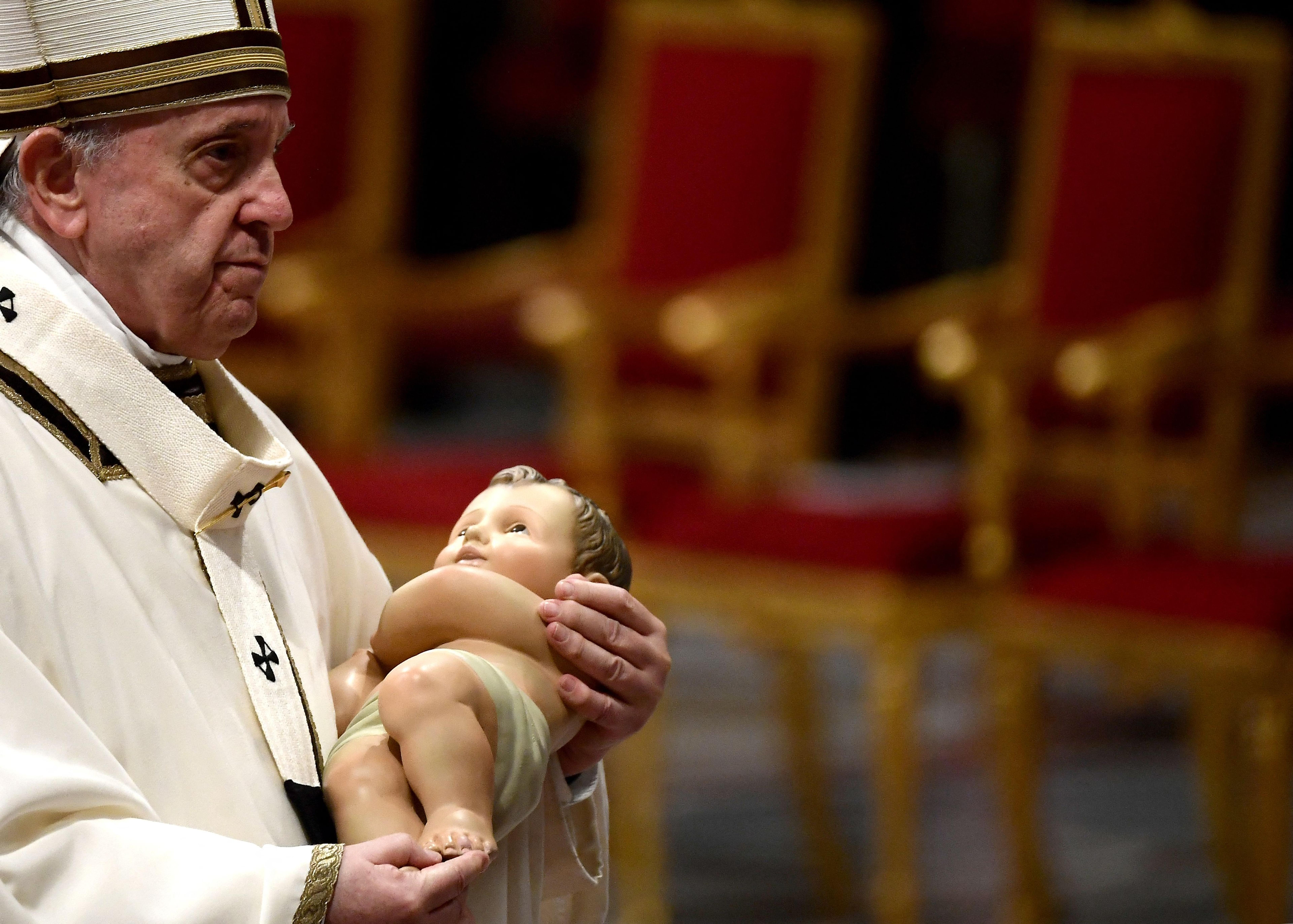 In the United States, President Joe Biden visited a Washington hospital with his wife Jill, the latter carrying on the tradition of the first lady visiting hospitalized children at the end of each year.
The presidential couple admired lanterns made by young patients and slipped them some anecdotes about Commander, a German shepherd whose recent arrival at the White House has made social networks happy.
Broadway canceled shows
The surge in Covid-19 infections is casting a chill on festive projects. Gatherings will generally be easier than last year, even though the Netherlands are confined, Broadway canceled Christmas shows in New York (USA) and Spain and Greece reintroduced the compulsory mask. outside.
Most Australians can once again travel within the country, for the first time since the start of the pandemic, reinforcing the Christmas spirit in a country which is yet experiencing a record number of contaminations. The Catholic Archbishop of Sydney, Anthony Fisher, in his Christmas message greeted the « Moving scenes of people finding themselves in airports after months of separation ».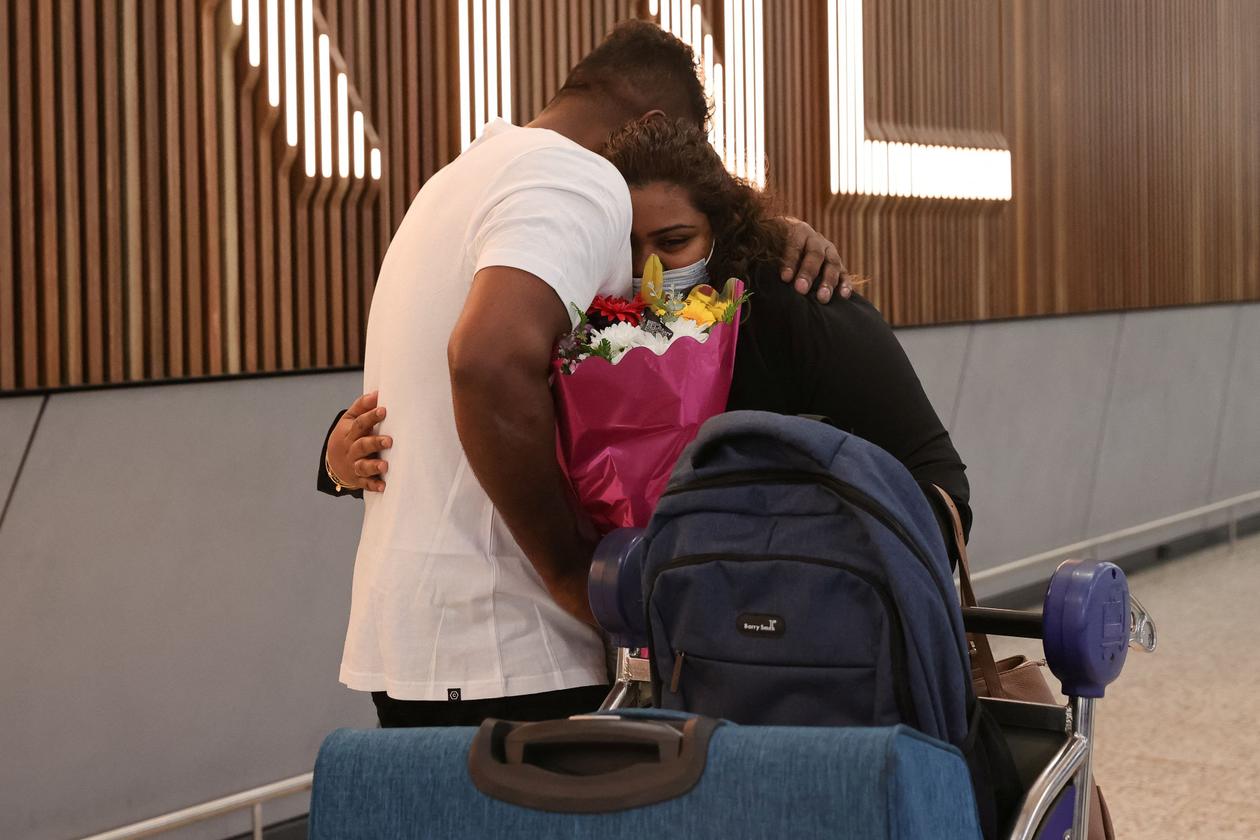 But border closures and restrictions will not prevent a famous reindeer sleigh from roaming the globe. Canada's transport minister gave the crew a green light, even Rudolph, whose « The nose shone with a thousand lights » and which he « Made sure he had no symptoms of Covid-19 before taking off ». Same thoughtfulness, Australian side: « Our air traffic controllers will guide Santa Claus safely through Australian airspace », said the Aviation Safety Authority.
In Brazil, a black Santa Claus arrived by helicopter distributed food packages to residents of the Penha favela, in Rio de Janeiro. "The children look at me, smile, play, talk. They feel represented when they see a black Santa Claus "said Leonardo Pereira da Silva, 30, a favela resident and member of the NGO Central Unicas das Favelas (CUFA).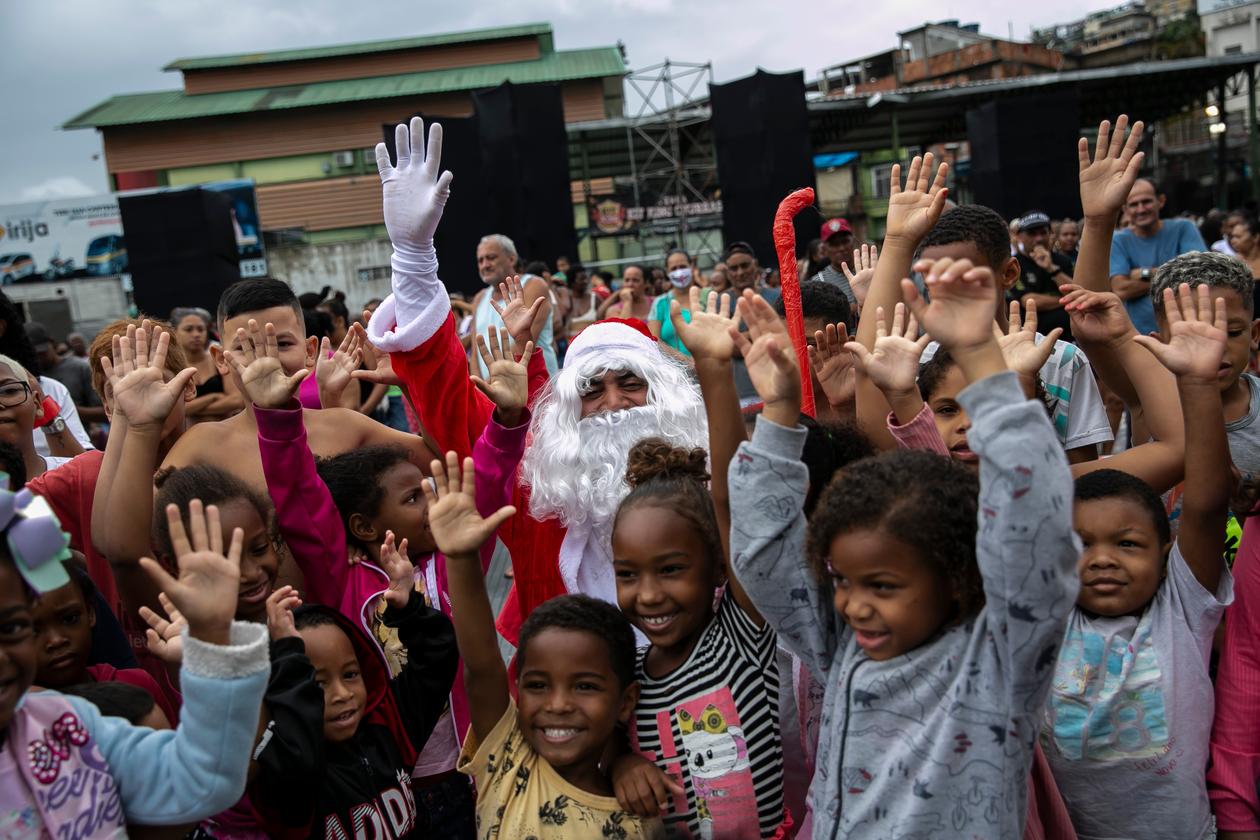 « I prefer to be with them »
In Calais, around a hundred people, including twenty-five migrants, associations and Calais residents who came to support them, attended a Christmas mass, celebrated by the Bishop of Arras in a car park near a camp area. In a temperature of less than 10 ° C, but spared from the rain, they gathered around an arbor, where an altar was summarily erected on a side table. They huddled together on a few benches, lawn chairs, or standing, listening and praying for an hour before sharing a hot drink.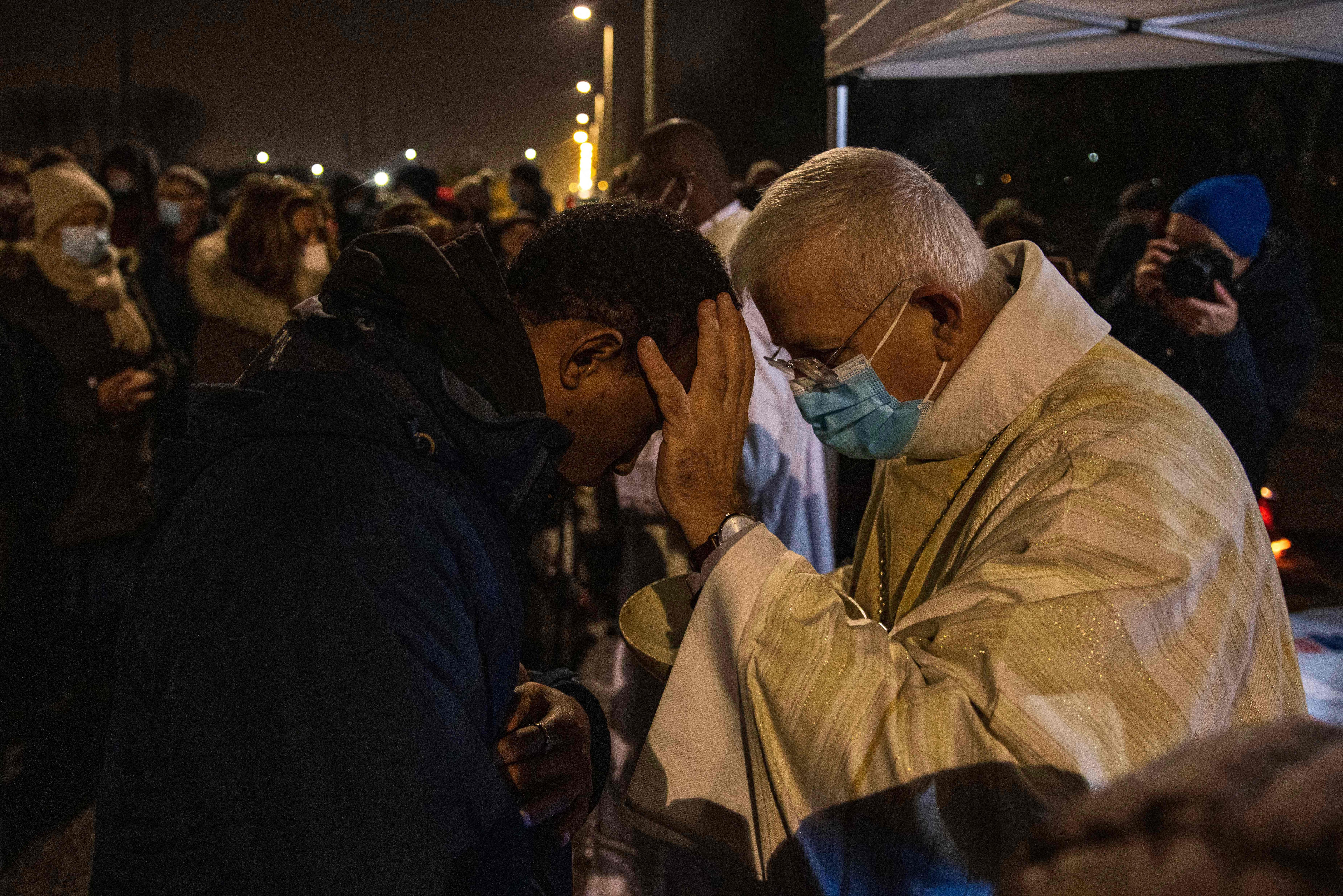 The migrants present were mainly Eritreans, of the Orthodox faith, used to camping near this wasteland east of Calais, where associations distribute meals on a daily basis. « The situation is so precarious for these people that I prefer to be with them », explained the Bishop of Arras, Mgr Olivier Leborgne.