If winter on the Côte d'Azur were to have a scent, it would be that of mimosa. On the heights of Mandelieu-la-Napoule (Alpes-Maritimes), about ten kilometers west of Cannes, the flowers in clusters of bright yellow pompoms of this tree of the acacia family cover the Tanneron massif. a halo of sun visible from the sea and into the hinterland.
From Mandelieu, we enter as by breaking and entering in the district of Capitou. Going up Boulevard Jeanne-d'Arc from the church and the cemetery, the Chemin des Lavandes threads discreetly to the left between the last houses. Even before seeing the trees in bloom, a strictly physical and a little unreal sensation announces them: more than a precise perfume, it is all the air that we breathe which is suddenly saturated with mixed perfumes. Far from the delicate and slightly sweet fragrance associated with mimosa, aromas of earth, leaves and wood add to the scent of flowers. You have to walk five minutes on a path above the Vernède valley to suddenly find yourself surrounded by mimosas.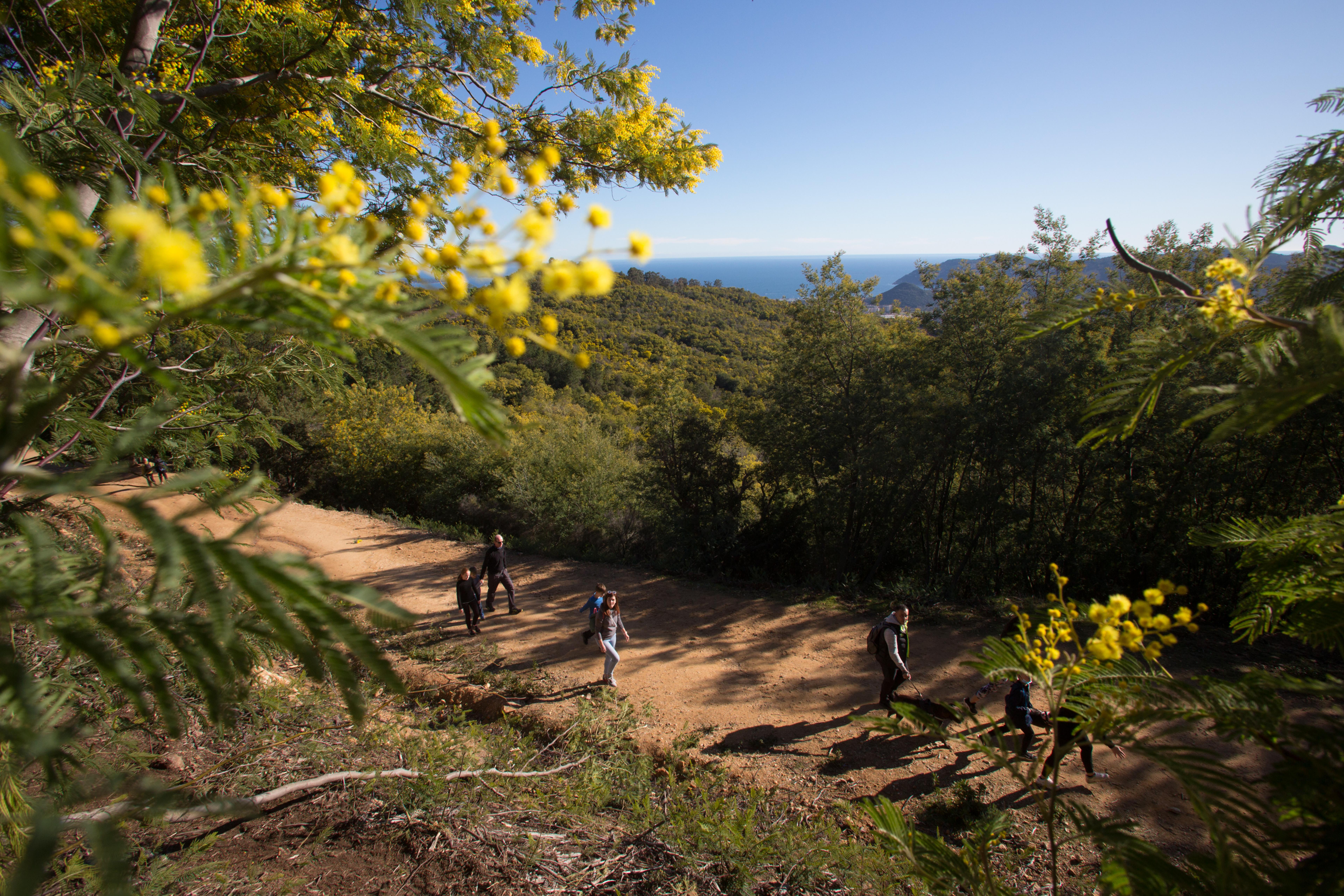 "You have to imagine these landscapes without any mimosa! «  Philippe Dejoux, hiking specialist, knows the Tanneron perfectly. « So that these Acacia dealbata, the botanical name of the mimosas that we find here, impose their slender silhouette – sometimes 30 meters high – on the hills of Mandelieu, it was first necessary to bring them from Australia. «  From 1780 but especially massively at the end of the XIXe century, English aristocrats, crazy about gardens and this South that they will soon baptize « French Riviera », decide to import massively mimosas from their vast colony of the Antipodes.
Perfectly adapted to the Mediterranean climate of the Côte d'Azur, where it never freezes in winter, these plants first developed in the gardens, between Bormes-les-Mimosas and Grasse. Then, nature did its work, and the mimosas jumped the walls to join the pines, holm oaks or corks, strawberry trees and cistus of the hills of the Var and the Alpes-Maritimes.
Eucalyptus stems laden with bluish leaves
By advancing on the slightly steep path, we begin to gain height while moving away from the sea. "The soil is the base of the Tanneron, an eroded, sandy metamorphic rock. This is exactly what mimosas need, continues Philippe Dejoux. It is the largest mimosa forest in Europe, but its exact area is not known. Several dozen hectares, for sure. «  It must be said that global warming is a game-changer: "The valleys which until now had no mimosas are now colonized. And conversely, the cork oak, which was traditionally cultivated here, is tending to disappear ", our guide alarmed. The National Forestry Office monitors this phenomenon, which threatens the biodiversity of the Var landscapes, and tries to limit the expansion of mimosas when possible.
You have 61.71% of this article to read. The rest is for subscribers only.